Posted on December 03, 2011, 4:57 pm by
Koby
Some of the best news I've heard in a while:
Nintendo of America revealed on Friday that it will release Monolith Soft's Xenoblade Chronicles role-playing game for the Nintendo Wii console in April 2012 in North America.
The game was originally released in Japan in June 2010 and in Europe in August 2011. Tetsuya Takahashi (Xenogears, Xenosaga Episode I) directed the game.
In June, fans started a petition to bring the game to North America; however, Nintendo said in July it had no plans to bring Xenoblade Chronicles "to the Americas at this time."
Nintendo is currently streaming a three-minute video for the game.
Earlier today Square Enix announced that
Final Fantasy Type-0
has been delayed by two weeks and it's new release date is scheduled for October 27. Square Enix explained that it delayed the game to improve the product quality. The game will ship for the PSP platform.
Yesterday IGN began streaming a 157-second "Quest for Lightning" trailer for the role-playing game
Final Fantasy XIII-2
. Square Enix announced the PlayStation 3 and Xbox 360 sequel to its
Final Fantasy XIII
role-playing game in January. The game is due for release this winter. Square Enix released a 27-second trailer for the game in January, followed by a two-minute English-dubbed promo for the game on in June
This is old news, but it's old news that still stings: in a recent interview with 4gamer, Konami producer Shingo Mukaitoge mentioned that the team behind the Suikoden games broke up years ago. Anyone watching the Suikoden series could've inferred this, as Suikoden's last major game saw release in 2006, and the DS-based Suikoden Tierkreis was a dubious, alternate-world attempt at remaking the franchise.
Mukaitoge and Tierkreis producer Osamu Komuta were optimistic about Suikoden and Konami's upcoming new RPG Frontier Gate (developed by tri-Ace), but the underlying message is clear: Suikoden's probably not coming back.
Square Enix is streaming a two-minute trailer for its tactical role-playing game Final Fantasy Tactics: The War of the Lions. It was announced on Monday that they would release the game for Apple's iPhone and iPod Touch devices on August 4 in Japan, America, and Europe. The company plans to release the game on Apple's iPad device in the fall.
Famitsu previously posted a
three-minute live demo
of the game.
The iPhone and iPod Touch version of the game will cost 1,800 yen, US$15.99, or €12.99. The American and European versions will include English voiceover.
The Japanese game developer Square Enix released the newest five-minute trailer for its upcoming Final Fantasy Type-0 role-playing game on Wednesday. The official website for the game also
announced
on Wednesday that the game is slated to ship in Japan on October 13 for the PSP system.
According
to the website for Enterbrain's Famitsu magazine, the theme song "Zero" will be performed by the band BUMP OF CHICKEN.
The game will cost 7,700 yen (about US$97).
Final Fantasy XIII was a fairly controversial game. Different from any Final Fantasy that had preceded it, XIII simplified the battle system and offered a largely linear adventure that removed much of the exploration we were used to. When a sequel, Final Fantasy XIII-2 was announced, many wondered if it would be more of the same or a return to form.
What's the Same?
Returning characters:
So far we know both Lightning (the fiery female lead from Final Fantasy XIII) and her younger sister Serah are returning in XIII-2.
Familiar places:
We played a mission where Serah and her new friend Noal return to the world of Cocoon.
Battle System:
It has been tweaked, but for the most part Final Fantasy XIII-2's battle system feels like its predecessor -- for better or worse. You still select Paradigms, or pre-determined actions for your party members to carry out. Enemies can be staggered and the party's health is fully restored after battle.
What's New?
New characters:
During a mission to Cocoon, Serah is accompanied by a brown-haired soldier named Noal and a moogle named Mog.
Rap music:
Yes, some of the background music we heard had some rapping going on. Really.
Cinematic Action:
Key battles will include moments of Cinematic Action, which is another name for quick-time events. For instance, during a battle against the behemoth Atlas you have to push the analog stick to the right in order to dodge its fist, and then press the X button at the right moment to land a heavy sword attack right on its forehead.
Add Monsters to Party:
Along with three character slots, your party also has two monster slots. If a felled beast leaves behind a crystal, you can slot that monster into your party and it will fight alongside you.
Mog Clock:
When a monster appears on the world map, the Mog Clock can be seen underneath its feet. It counts down from green to yellow to red states and is essentially a timer that will reward you with a preemptive attack if you attack it quickly enough. Wait until the clock is red, though, and the enemy will have the advantage once you enter battle.
Live Trigger:
These are in-game cutscenes that either give you more information about your current objective or provide a new option for overcoming it.
What's Still Unknown?
Here's the kicker: Square Enix isn't saying anything about big changes in Final Fantasy XIII-2. While other developers, such as Prototype 2's Radical Entertainment, will admit they are fixing past mistakes and listening to fan feedback, Square Enix avoided any such language during its reveal of this sequel. So is it still a linear adventure? I don't know, yet. Story details are still light and more familiar faces are bound to be revealed leading up to the winter release in Japan.
What I've seen so far looks much like Final Fantasy XIII with some light refinements.
Source:
IGN
Alright so it's been almost a year since I actually announced working on the version 9 layout and it's still not here. To be honest the design was finished, but the idea's I had for it, I didn't quite know how to code it to pan out as I had envisioned so I just quit on it. Recently I got the urge to get back to work on it so I can finally switch to it since it's been so long since version 8 was introduced.
Basti
of OSe has been a great help in coding some of the features of the layout. It's going to have drop down navigation under the header, and the gaming navigation to the left of the page will be able to be collapsed and expanded. Due to the amount of games I plan to have some kind of content on, the game navigation will all be collapsed by default and can either be expanded one section at a time, or you can click a text/image which will expand or collapse all the sections at once.
I'm undecided if I should somehow make it cookie based so you, the viewers, could have it saved to either be collapsed or expanded based on your preference. I probably will not do so, especially since it would require more coding I do not know, and would have to rely on more help from the OSe crew.
Anyways this news post is more or less just an announcement to show work is being done in order to finally update the site as it so needs. It may be some time still before you see any changes. I do apologize for it, but I blame most of my neglect on loss of inspiration to the Final Fantasy series thanks to how horrible Final Fantasy XIII was. Which is why there will be a bit less focus on Final Fantasy in the new update.
If you must know, my favorite Final Fantasy is Final Fantasy IV (4) and my favorite Final Fantasy character is Squall Leonhart from FF8.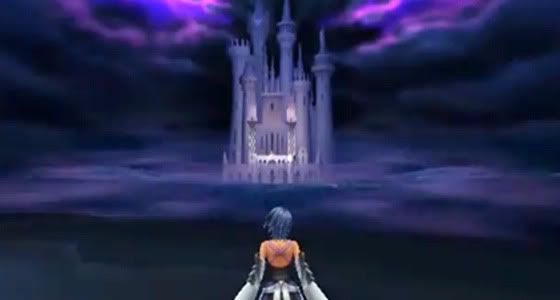 KH: Birth By Sleep Final Mix's Secret Ending has unveiled another new KH Game!
With Kingdom Hearts Birth By Sleep Final Mix released, that means the new secret ending is up online! In addition, series director Tetsuya Nomura has mentioned a mystery game in recent interviews that has yet to be seen until now! The name of the mystery game will be Kingdom Hearts Birth By Sleep ~Volume Two~!
Source:
KH2.co.uk
There were rumors, but at last Square Enix has indeed confirmed that there will be a sequel to Final Fantasy XIII!
"We at Square Enix are delighted to let you know that the sequel to FINAL FANTASY XIII, FINAL FANTASY XIII-2, is coming next winter. We have a new story in store that stems from the previous title, a battle system that is evolved from "XIII" – and more…

We're looking forward to sharing more details with you about this exciting new sequel in the future – in the meantime please check out the game logo and first screenshot!"

Game Logo
|
Screenshot
This is a calling to all Final Fantasy fans I suppose.
What do you think of the way the Final Fantasy series has been headed in the last few installments? Do you like Final Fantasy XII, Fantasy Fantasy XIII, and Final Fantasy XIV or do you hate them?
I've read all over the internet about the hate on Square Enix and how Final Fantasy hasn't been the same since the merger of Square Soft and Enix. After the merger the first thing we got was Final Fantasy X-2 if I remember correctly, and to be honest while I liked the battle system, that was the only thing I liked about it. Everything else was pretty much bad.
My personal opinion is that what they are trying to do to the series is wrong. It doesn't need to be fixed. Haven't you ever heard the saying that if it isn't broken then don't fix it? Final Fantasy wasn't meant to be the next Sci-fi Action game. It's roots are the old classic true RPG's. Rather than focusing purely on graphics and neglecting actual game-play and story. They should work on the story and make a game you can actually PLAY!
I remember Final Fantasy XII, do you? I beat it but never got to play it. Once I set the gambit system up correctly my characters beat everyone including the final boss without ever having to input a single command
EVER
.
Come on that's not a game. You play games, you don't sit back and watch the games play themselves.
Well since I just recently bought a PlayStation 3 I finally got to check out Final Fantasy XIII and I got to say: From what I had heard about it I expected the game to be crap... and you know what? It's even worse than I thought. A couple hours into it so far and I've done nothing. It's just run past a few enemies in this short narrow path, see a cut-scene, and repeat over and over and over and over and over again. It doesn't even have a level system and the upgrade system is like a crappy version of FFX's sphere grid. Also as far as battles, you pretty much just select auto battle over and over and let the AI do your attacking. >.> Might as well made this a CG film instead of a game because you never actually get to play it seems.
So yeah, what do you, the fans of the series, Forgotten Memories website, Square-Enix, or whatever think about how the series has been and what would you like to see change or remain the same to come out with a great Final Fantasy we can all be happy about?
| | |
| --- | --- |
| » Newest Forum Members | » Top 5 Forum Posters |
| | |